Grey Lady–Urban Daddy Perk
Grey Lady

77 Delancey St, New York, NY 10002
646-580-5239
Earlier in the month, I told everyone about the UrbanDaddy Perk that offered a 2 hour "Bottomless Brunch Cocktailing" at Grey Lady located on the Lower East Side. I am back to to report to you the amazing experience I had at the Grey Lady. A good reason to go to the LES for sure!
Grey Lady, what can I say about this awesome seafood joint? I first heard about it through a Thrillist mailing in early June, then it was the UrbanDaddy Perk earlier this month. Grey Lady opened in May at it's Lower East Side location by it's 3 owners, Callum McLaughlin, Ryan Chadwick, and Gavin McLaughlin (Chef). The place can be described as a "Nantucket-esque" seafood joint decorated in a blue and white nautical theme.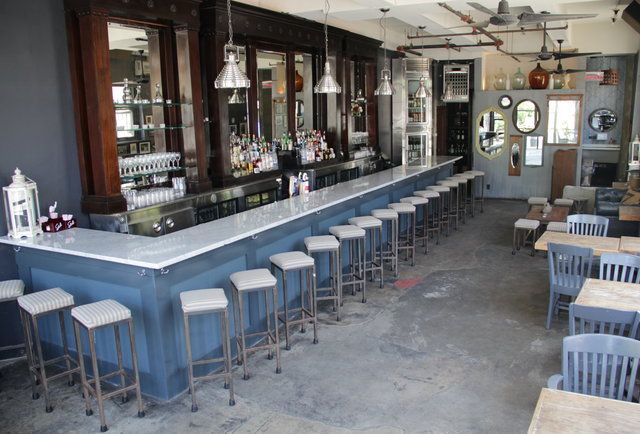 With my UrbanDaddy Perk in hand, I made a reservation for 2 for a Saturday Brunch at 1:30pm in the afternoon. It was a gorgeous day without melting heat, perhaps the perfect weather for a delightful afternoon at the Grey Lady enjoying unlimited and delicious cocktails and a mouth watering Lady's Lobster Roll. We each ordered a lobsters roll and a series of cocktails including a few Rum Pig, Life Is Good, and Southside. The drinks were perfectly mixed, the food was perfectly cooked, and the service was great with owner Callum behind the bar and owner/chef Gavin in the kitchen. I couldn't have hoped for a better evening and a greater experience at this shining new gem at the LES. Grey Lady is now a great reason for me to venture down to the LES at any given time.
1
The Lobster Roll: Lady's Lobster Roll (Fresh Shucked Maine Lobster, Butter Fried Split Top Bun, House Made Chips, Celery Salad, Tarragon Vinaigrette) $25. Just reading that on the menu makes you want to order 2! Trust me, it tastes even better than it reads. The lobster roll is made from a 1lb fresh Maine lobster in a light mayo base sprinkled with chives on top and placed in a perfectly toasted (fried?) and buttered top open bun from Balthazar Bakery. After the first bite, I thought to myself, I have found it! The lobster roll that I want to savor every bite just like the way I do at Pearl. Each bite, you have a perfect balance of large chunks of fresh lobster meat, light mayo dressing, and the warm, buttered bun. Together, it creates a little big of heaven in your mouth. To compliment the lobster roll, Chef Gavin have a very unique Celery Salad in tarragon vinaigrette. I have to say, for someone who hates celeries and is not a big fan on salads, this celery salad was out of this world! The celeries are thinly sliced, tossed with dill, and dressed in the tarragon vinaigrette which I suspect have some mustard mixed in. We were also recommended by Callum that many people like to eat the celery salad with the lobster roll together. It was a very good combination, the celery definitely gives the lobster roll some extra crunch. The chips were very thinly sliced, crunchy and good. It was slightly on the salty side but then again, I generally prefer less salt than most people.
Overall, this was a 5 star restaurant across the board with its food, drink, service, and the entire experience. We enjoyed it so much that we were planning on when we should come back again and who else we should bring with us. I will leave you with our quote of the day when we asked Callum and Chef Gavin "I know the drinks have refills, but what about the lobster rolls?"